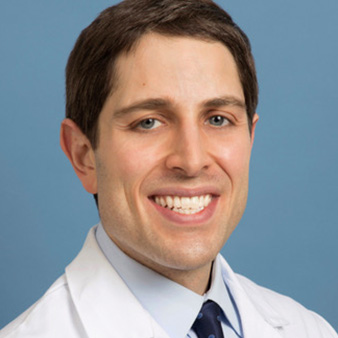 Dr. Aaron Feinstein is board-certified in Otolaryngology – Head and Neck Surgery and fellowship-trained in Laryngology and Professional Voice.
Dr. Feinstein studied neuroscience at the University of Southern California, earning membership in Phi Beta Kappa and distinction as a USC Renaissance Scholar. He attended Yale University School of Medicine, where he received both Doctor of Medicine and Master of Health Science degrees and was recognized with multiple awards, including the Frank Parker Prize for the graduating student with the best qualifications for a successful physician. Dr. Feinstein pursued his surgical residency at UCLA Medical Center and excelled in patient care and leadership roles. He was selected for a prestigious fellowship in Laryngology and Professional Voice at UCLA, where he enhanced his proficiency in treating elite singers, actors and other persons with demanding vocal needs.
Dr. Feinstein has published extensively in peer-reviewed medical journals, authored several book chapters on ear, nose and throat disorders, and given talks at local and national meetings. He serves as a Voluntary Assistant Clinical Professor for the Department of Head and Neck Surgery at UCLA.
Dr. Feinstein was raised in Indiana, where he developed his passion for music through saxophone and clarinet performance. He remains a music enthusiast and enjoys the theatrical and cinematic arts. He loves the outdoors, frequently visiting Southern California?s beautiful beaches and hiking trails with his wife.